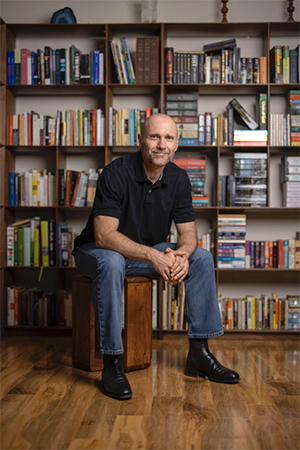 Hugh is a writer and award-winning philosopher. He has a PhD in moral philosophy, and works as a Senior Research Fellow at Griffith University's Institute for Ethics, Governance & Law. He has previously worked as an airport construction worker, editor, theatre director, kitchen hand, ethics consultant, pinball repairer, disk jockey, tennis court builder, and university lecturer. Hugh plays the drums, has a black belt in karate, and lives in rural Australia with his two children and his wife—novelist and New York Times bestseller, Kylie Scott.
Hugh first entered creative realms when he quit his Bachelor of Engineering at university (deciding he didn't actually like maths as much as he'd thought) to begin studying Drama and Stage Acting. While he enjoyed acting, it turned out he didn't have any particular talent for it, and in his Honours Year he moved into writing and directing, putting on his original playscript Strange Attractors.
Over the next few years, Hugh increasingly turned his hand to screenwriting and fiction writing, where he had a screenplay, Meek, granted development funding and optioned. In 1995, he started writing a love story about a young man with recurring amnesia—The Beautiful Fall. However, after wrestling with the story both in stage play and novel form, he could never seem to get it just right. The manuscript drifted from prime position on his desk to a dusty drawer.
At about this time, at the age of 27, his life was turned upside down when his then girlfriend (subsequently, wife) suggested he might enjoy the book she was reading: Jostein Gardner's Sophie's World. It was the first philosophical reading he'd been exposed to, and for the first time he realised that there might be other people in the world who spent their lives thinking the same weird thoughts as he did.
A rush of university study followed, with a Grad Dip, Honours, and then PhD. Despite a frightening accrual of student debt, Hugh had finally found a home as an ethicist and moral philosopher. He published his first scholarly book, Intellectual Liberty: Natural Rights and Intellectual Property, in 2012 and has since turned his attention to a wide array of practical areas where challenging ethical issues arise, editing two books and producing more than fifty academic papers, many in the world's most prestigious journals and academic publishing houses, including Cambridge and Oxford University Presses.
Meanwhile, his wife had been busy, with her first fiction novel published in 2012. But it was her third book, Lick, that really hit the big time. It was to be the first of her four New York Times Bestsellers. Predictably, over this period Hugh was enrolled as crit partner, copy-editor and occasional thesaurus. Learning somewhat by osmosis, and more directly by tagging along on his wife's trips to creative writing courses and seminars, he began to wonder if he was finally in a position to do justice to that recurring amnesia story he'd written those many years ago.
In 2015, he mentioned to his teenage daughter that he was thinking of redoing the story, and she asked for a plot synopsis. Having heard the outline, she said, "Wow, Dad. That's really good." Teenage daughters being what they are, this enthusiasm created rather an impression, as one of only two pieces of spontaneous praise she has ever offered her father. (The other being when she found out, on a trip to an ice-skating rink, and to her enormous surprise, that he could ice-skate.)
Having received endorsement from his sternest critic, Hugh thought he might be on to something worthwhile, and he pulled the faded manuscript out of its dusty drawer, dumped it unceremoniously in the bin, and rewrote the story anew. Round after round of editing and rewriting followed until finally—almost twenty five years after its first draft—the story was in a fit shape to share.
The Beautiful Fall is available in Australia and New Zealand, in print and audiobook form. It will be released in the UK in 2021, with German, French and Chinese translations soon to follow.
Contact him at info@hughbreakey.com
or: PO Box 13, Fernvale QLD 4306 Australia
All Professional Inquiries:
Alexandra Adsett
Alex Adsett Publishing Services
(61) 431 87 47 87
alexadsett@alexadsett.com.au